This is an archived article and the information in the article may be outdated. Please look at the time stamp on the story to see when it was last updated.
Pasadena Police Chief Phillip Sanchez announced his retirement Monday from an agency that has been embroiled in controversy in recent months.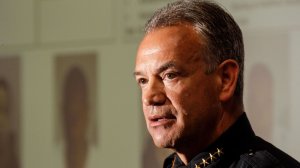 In a statement, Sanchez said his decision to step down, effective April 18, after eight years at the helm took "much deliberation and careful thought."
"Putting on the Pasadena police uniform every day has truly been a humbling experience," he said. "I am proud of the progress we have made as an agency during my tenure."
He cited the department's body-camera program and headway in bringing diversity to the agency to better reflect the community.
Read the full story on LATimes.com.