This is an archived article and the information in the article may be outdated. Please look at the time stamp on the story to see when it was last updated.
A passenger died and a driver is suspected of drunken driving after a car slammed into a gas station pump in Azusa early Sunday, police said.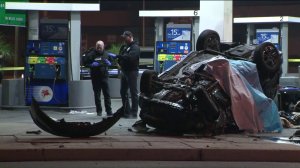 The crash took place about 2:30 a.m. at a Mobil Station along Azusa Avenue, just north of the 210 Freeway, Azusa police Lt. Robert Landeros told KTLA.
It appeared the car was traveling far faster than the posted 25 mph speed limit when it smashed into the gas pump and overturned, he said.
The passenger died at the scene, the lieutenant said. The driver was taken to a hospital where he was listed in stable condition.
Both men were estimated to be in their 20s. Their identities were not available Sunday evening.
"It appears that speed and alcohol are both factors in this," Landeros said.
Fortunately, he added, there was no fire associated with the crash.
"The gas pumps have emergency shut-offs, so they were able to shut of the gas pumps," Landeros said.