This is an archived article and the information in the article may be outdated. Please look at the time stamp on the story to see when it was last updated.
[protected-iframe id="248a9490daf3576f54737555f3e80ac9-41641936-52137988″ info="http://c.brightcove.com/services/viewer/federated_f9?isSlim=1″ width="640″ height="390″]
When Frank Romano made arrangements to bring his dog along with him on a flight from Los Angeles to Tampa, Florida, he never imagined that an airline would lose the animal he describes as his best friend.
According to Romano, however, Delta Air Lines misplaced the precious cargo when he boarded a flight out of Los Angeles International Airport on Oct. 31.
"I have no clue how they could just lose a pet like that," he told WTSP.
While in Tampa, where he was attempting to determine his dog's whereabouts, Romano expressed frustration with the airline.
"They sound like they lost a piece of baggage — that's it," he said, adding that the canine, named Ty, is "family. He's like my best friend."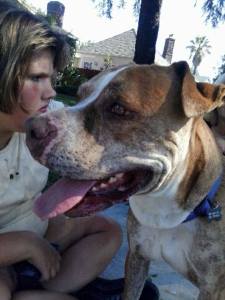 Romano was homeless about a year ago when he rescued Ty, who was "like a big anxiety pill," he said. "He would help me through the rough times."
He purchased a $200 ticket for Ty and loaded him into a create. According to the airline, the dog chewed through the crate and escaped.
Romano says he does not believe the explanation.
"I don't trust Delta," he said.
He vowed to continue searching for his pet, who is microchipped and remained missing Sunday.
"I just want him home safe. I want him back," he said.