This is an archived article and the information in the article may be outdated. Please look at the time stamp on the story to see when it was last updated.
Five people were killed when a bus crashed into a pole on a highway near Livingston in Merced County Tuesday morning.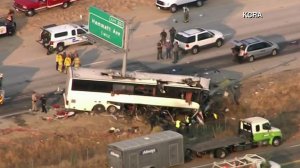 The bus crashed just before 3:30 a.m. on Highway 99 near the Liberty Avenue off-ramp, according to the California Highway Patrol's traffic incident log.
At least five people were killed when the bus crashed into a highway sign pole, television station KGO in San Francisco reported.
Aerial video showed the pole sliced through the bus, nearly splitting it in two.
"This is the first time and only time that I've seen this," CHP Officer Moises Onsurez told KTLA's sister station KTXL in Sacramento. The crash occurred about 2 1/2 miles southeast of the city of Livingston, and about 12 miles northwest of Merced.
The driver, identified by KTXL as 57-year-old Mario David Vazquez of Los Angeles, veered off the highway and hit the sign.
"At this point, we do not know the reason behind the unsafe turning movement," Onsurez told the station.
The entire northbound side of the highway was closed due to the crash at 4:45 a.m., according to the CHP.
About 30 passengers were said to have been on the bus, according to KGO. More than a dozen people were hurt, KTXL reported.
The bus was owned by Autobuses Coordinados USA and was enroute from Mexico to Pasco, Washington, when it crashed, the station reported.
The cause of the crash was under investigation.