This is an archived article and the information in the article may be outdated. Please look at the time stamp on the story to see when it was last updated.
A crash that injured three people, including a 9-year-old girl who was critically injured when a speeding sports sedan plowed into her before slamming into a terminal at LAX, was being investigated as an accident on Sunday, officials said.
The solo vehicle crashed into the external "utility room" above a stairwell at the Los Angeles International Airport's Terminal 7 (map) around 4:51 p.m., Los Angeles Fire Department officials said.
The driver was in the outer lanes when he "lunged over," hitting the girl before crashing through the terminal's wall, Los Angeles Police Department Sgt. Roy Ceja said at a news conference.
"All indications saying that he probably mistook the gas pedal for the brake," Ceja said. "The driver was a 67-year-old male, was not inebriated in any way from our initial investigation. Like we said, we're just investigating this as an accident."
Ceja added that the driver did not appear to have a medical condition.
The speeding vehicle struck the 9-year-old girl, critically injuring her, before breaching the stucco wall of the utility room, according to Fire Department officials.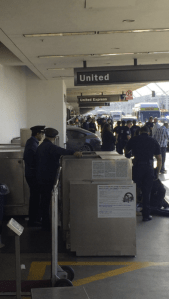 The driver and his male passenger sustained "non-life threatening injuries" and were also transported to a local hospital.
It was unclear if the driver was dropping off or picking up the passenger from United Airlines, Terminal 7, Ceja said, adding that both men had not been formally interviewed as of 7:30 p.m.
The girl was possibly the daughter of an airline employee, Fire Department Battalion Chief Armando Hogan said. United Airlines officials were at the hospital where she was being treated to "show support."
Photos of the scene showed a dark-gray sports sedan, apparently a Porsche without license plates, being towed from the scene. The car had extensive damage, and its hood was crushed.
Three-quarters of the vehicle made its way into the side of Terminal 7 before coming to a stop, Hogan said.
Although the car left a gaping hole in the side of the airport, Hogan said the damage did not appear to be impacting the building beyond where it was hit.
"One thing that we feel extremely fortunate about is, this building is pretty fortified, so to speak. So there's minimum damage, although it looks like it."
Several lanes were closed to traffic after the incident. They were reopened by 6:45 p.m., airport police tweeted.
Airport operations were not impacted otherwise, officials said.
Officials with the Fire Department, LAPD, Los Angeles Airport Police and Los Angeles World Airport Operations responded to the incident.