This is an archived article and the information in the article may be outdated. Please look at the time stamp on the story to see when it was last updated.
A woman who had been detained by two sheriff's deputies managed to gain control of the patrol car on Friday, crashing it a short time later in the West Hills area, according to Los Angeles County Sheriff's Department officials.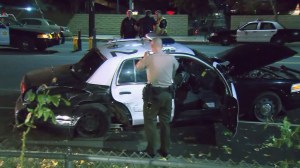 Police initially received a call requesting a rescue ambulance around 6:07 p.m. near Fallbrook Avenue and Saticoy Street, Los Angeles Police Department's Drake Madison said.
The call was regarding a patrol vehicle that had caught fire after it crashed, sheriff's officials said.
The incident began when two deputies detained a man and a woman, according to Lt. James Royal. Officials would not say why they had been apprehended.
The two were placed in the back of the patrol car, and for reasons not yet known, the deputies walked away.
"One of the suspects, a female, was able to access the vehicle, the patrol vehicle, and she fled the scene southbound on Fallbrook," Royal said.
About a half a mile from the initial scene, the woman was accused of crashing the patrol car into a parked vehicle, a second vehicle that had people inside, and a power pole. The patrol car then caught fire.
Sky5 aerials of the scene showed the damaged patrol car, and more than a dozen law enforcement vehicles in the surrounding area.
After the crash, two people were also seen by Sky5 aerials being placed into the back of an ambulance. One of the two was surrounded by officials and sitting on a curb for at least 10 minutes prior.
A witness told KTLA the person on the curb was a woman who had blood dripping down her face.
She was visibly nervous, crying and shaking, witness Sal Hirsch-Garcia said.
He added that she had a handcuff around one of her wrists.
Officials initially said at least one of the people detained had been handcuffed. It was not clear if both the man and woman had been, or if the woman somehow managed to free herself.
KTLA's Nidia Becerra contributed to this report.