This is an archived article and the information in the article may be outdated. Please look at the time stamp on the story to see when it was last updated.
Paul Tanaka, once one of the most powerful law enforcement officials in Los Angeles County, was sentenced Monday to five years in federal prison for interfering with an FBI investigation into jail abuses by sheriff's deputies.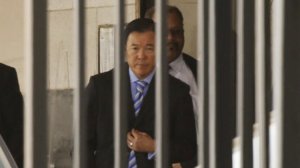 In announcing the sentence, U.S. District Judge Percy Anderson rejected Tanaka's defense arguments that the former L.A. County undersheriff was unfairly scapegoated and knew little of what was unfolding around him.
"Not only did he fail to identify and address problems in the jails, he exacerbated them," the judge said of Tanaka.
A jury in April convicted Tanaka of obstructing the federal probe and conspiring with others to intimidate the lead agent in the case, pressure deputies not to cooperate and conceal the whereabouts of an inmate who was working as a federal informant.
Click here to read the full story on LATimes.com.
Federal judge sends Paul Tanaka to prison for 5 years & says acts were "a gross abuse of the public trust." https://t.co/CphEQkcp65

— US Attorney L.A. (@USAO_LosAngeles) June 27, 2016