This is an archived article and the information in the article may be outdated. Please look at the time stamp on the story to see when it was last updated.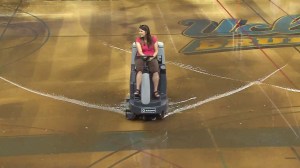 The Nell and John Wooden Court in Pauley Pavilion was showing signs of "buckling" on Wednesday following a water main break that sent millions of gallons of water toward the UCLA campus and into storm drains in Westwood.
An estimated 20 million gallons of water flowed from the 93-year-old water main, which burst in the 10600 block of Sunset Boulevard (map) just before 3:30 p.m. on Tuesday, according to the Los Angeles Department of Water and Power.
Damage to the newly renovated Pauley Pavilion was of particular concern to campus officials. At one point, the court was under 8 to 10 inches of water, Kelly Schmader, assistant vice chancellor for facilities management, said at a morning news conference.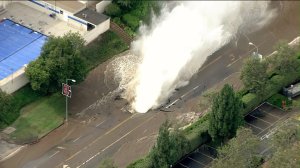 "The court is showing little signs of buckling and expansion right now. Whether we'll be able to save that court, I don't know," Schmader said, adding that it would be a "top priority to get that restored" if it was ruined.
Athletic Director Dan Guerrero said it was still unclear what the repairs would entail, and that there were no immediate plans to replace the damaged court.
A UCLA spokesman said that the university wants DWP to cover the damage costs caused by the ruptured water main.
"UCLA is self-insured but we believe the costs directly resulting from the water main break should be borne by the DWP," said university spokesman Ricardo Vazquez.
Another spokeswoman told the Los Angeles Times that UCLA was keeping a "running log" of costs that should be borne by the public, taxpayer-funded city utility.
Asked about paying for UCLA's costs, DWP water chief Jim McDaniel said Wednesday afternoon only that the utility had a claims process in place.
Meanwhile, large blowers had been brought into Pauley Pavilion, the Arthur Ashe Student Health and Wellness Center, J.D. Morgan Center and the John Wooden Center as crews worked through the night to get flood waters out of the buildings, according to a post on the UCLA Newsroom website.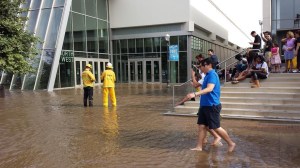 "We're in the drying phase now," Schmader said.
Two workers were hospitalized and four were treated after being exposed to carbon monoxide fumes coming from equipment at Pauley Pavilion on Wednesday evening, according to the Los Angeles Fire Department.
The flooding of Pauley Paviolion comes about two years after the completion of a 2 1/2-year,  $136 million renovation.
The deluge also caused "substantial" damage to two underground parking structures, a university official said.
The campus was open and classes were expected to be held Wednesday.
"However, UCLA summer camps and the Fernald and Krieger child care centers will be closed," Schmader said.