This is an archived article and the information in the article may be outdated. Please look at the time stamp on the story to see when it was last updated.
A multi-vehicle collision on Pacific Coast Highway in Laguna Beach on Sunday left one person dead and five others injured, authorities said.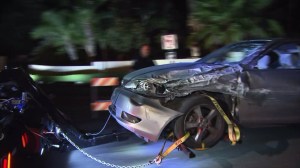 Police and fire personnel responded to PCH at Irvine Cove Drive (map) about 1:34 p.m. after receiving a report of a head-on collision, according to a news release issued by the Laguna Beach Police Department.
A car was traveling on the northbound side of the highway when it struck another vehicle in what was initially a minor fender-bender, police said. The car then veered into the southbound lanes and hit two other vehicles.
Coroner's officials removed the deceased victim's body from one of the four vehicles involved in the crash, the Police Department said. Authorities had previously said five cars were involved.
The body was transported to the Orange County coroner's office for further examination, said Laguna Beach police Sgt. Eric Lee.
The five injured victims were taken to hospitals, Lee said. Their conditions and the extent of their injuries were not immediately known.
Northbound PCH was reopened Sunday night after being temporarily closed due to the incident. All southbound lanes remained closed between Reef Point and Viejo Street, but were expected to reopen by 11 p.m.
The cause of the collision was under investigation.