This is an archived article and the information in the article may be outdated. Please look at the time stamp on the story to see when it was last updated.
A driver suspected of fatally striking a man in Santa Ana and then fleeing the scene is in custody Friday morning.
The incident occurred near the intersection of South Bristol Street and West Warner Avenue, Santa Ana Police Department Cpl. Anthony Bertagna said.
Juan Carlos Alcantara, 47, has been arrested on suspicion of felony hit-and-run after a woman called police to report his name and an address where he can be found.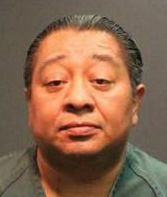 Earlier in the morning, a witness told police the victim was lying in the street next to a blanket when a car screeched and nearly hit him.  He was lying in the middle of Bristol, just south of Central Avenue, police said.
She said the man sat up but then lay back down as the car drove away.
That's when a second car came by and ran over the man, according to the witness.
The caller remained on the line with police dispatch just as the victim was struck, officials later said.
The car stopped about 50 yards away but then continued northbound, Bertagna said. It has been described as either gray or tan.
The unidentified victim, described only as a black man in his 20s or 30s, died at the scene.
A little over an hour later, about 6:47 a.m., a woman called police saying she knew the driver involved in the crash. She provided his name, a vehicle description and license plate number as well as an address where he could be found.
Investigators believe the pedestrian was lying in Bristol's #1 northbound lane when he was hit by the vehicle, which was heading north.
The driver, Alcantara, and the vehicle he was driving were both located at the Santa Ana address given to police.
Police do not believe he was under the influence of alcohol or drugs at the time of the collision but toxicology tests still have to be done to determine whether he was sober. He has provided a voluntary blood sample, according to police.
Initially, police said Alcantara had turned himself in but later issued a news release saying a woman had called to report his name to police. Officials have also said Alcantara told police he left the scene because he panicked.
He has been booked into the Santa Ana City Jail.
Police also initially said the victim had been struck by two vehicles but later indicated only one driver was involved in the hit-and-run.
Anyone possibly having information about this collision are asked to contact the Santa Ana Police Department's Traffic Division at (714) 245-8200.
KTLA's Marissa Wenzke contributed to this report.