This is an archived article and the information in the article may be outdated. Please look at the time stamp on the story to see when it was last updated.
An investigation is underway after a pedestrian was struck and killed by a motorcycle Monday morning on a street in Maywood, authorities said.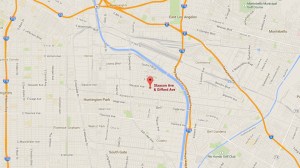 The incident occurred about 5:59 a.m. near the intersection of Gifford and Slauson avenues (map), according to the Los Angeles County Sheriff's Department. Slauson Avenue was closed between Atlantic Boulevard and Corona Avenue while investigators were at the scene.
The deceased victim's body lay on the ground and was covered by a sheet, a witness said.
The motorcyclist was transported to a hospital with unknown injuries, according to a sheriff's spokesman.
It was unclear if the pedestrian was in a crosswalk at the time of the collision.
No other details were immediately available.