This is an archived article and the information in the article may be outdated. Please look at the time stamp on the story to see when it was last updated.
A male pedestrian who was apparently trying to get hit by a car on purpose was fatally struck in Long Beach early Monday morning, police said.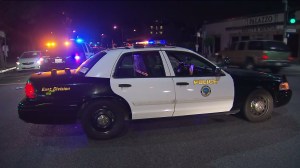 Officers were dispatched to the 3600 block of East Seventh Street about 1:17 a.m. following a call of an attempted suicide, according to a news release from the Long Beach Police Department.
The caller told police a man was was jumping in front of vehicles, trying to get hit. When that failed, he lay down in the roadway, the release said.
Moments later, officers learned the pedestrian had been struck by a vehicle that fled the scene, according to police.
The man was pronounced dead at the scene by responding paramedics. His name is being withheld until his next of kin is notified.
The hit-and-run driver may have been in a 2006 to 2010 white Chrysler 300 that was seen leaving the crash location, according to police.
No description of the driver being sought by police was immediately available.
Anyone with information is asked to call the department's Collision Investigation Detail Detective Steve Fox at 562-570-7355.
Those who wish to leave tips anonymously are urged to contact Crime Stoppers by calling 800-222-8477, texting TIPLA plus the information to 274637, or by visiting the website LACrimeStoppers.org.