This is an archived article and the information in the article may be outdated. Please look at the time stamp on the story to see when it was last updated.
Police were investigating after a public transit bus with passengers aboard struck a pedestrian in Fontana on Monday afternoon.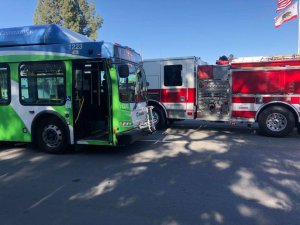 The crash occurred at the intersection of Sierra and Upland avenues shortly before 4:30 p.m., said Fontana Police Sgt. Kevin Goltara.
The southbound lanes of Sierra Avenue, between Upland and Seville avenues, would be shut down for "an extended period of time" as authorities conducted their investigation, Goltara said.
The Omnitrans bus was heading south on Sierra Avenue when a man ran out in front of it, according to Goltara.
The person was in between crosswalks at the time, he added.
The man was taken to the hospital in critical condition, and a passenger on the bus was also transported after complaining of suffering minor injuries when the bus came to an abrupt stop.
Authorities were unsure how many passengers were aboard the bus at the time.
Omnitrans officials told police the bus driver had worked for the transit service for five years. The person will be subjected to drug testing, as required by the agency's guidelines, officials said.
The bus was equipped with a surveillance camera, and police will review the footage as part of their investigation, Goltara said.
Officials have not released the names of any of the parties involved, and no further details were immediately available.
Investigators remained at the scene Monday afternoon.
KTLA's Nidia Becerra contributed to this report.
Major Accident Investigation
Please stay out of the area of Sierra and Upland Ave. Southbound Sierra between Upland and Seville will be shut down for an extended period of time due to a collision involving a pedestrian and a bus. pic.twitter.com/zR77uPq1vT

— Fontana PD (@FontanaPD) May 8, 2018