This is an archived article and the information in the article may be outdated. Please look at the time stamp on the story to see when it was last updated.
A 21-year-old male skateboarder was killed when he collided with a dump truck on a curving mountain road in the Angeles National Forest north of San Dimas on Friday, authorities said.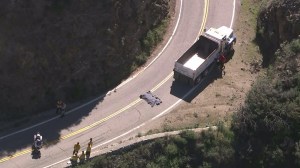 First responders were dispatched to a report of a vehicle collision with a pedestrian at Glendora Mountain Road and East Fork Road (map) about 10 a.m., Randall Wright of the Los Angeles County Fire Department said.
The man was pronounced dead on arrival, at about 10:40 a.m.
The victim was described only as a 21-year-old white male by authorities with the California Highway Patrol, which was investigating. CHP initially said he was 20.
Later Friday afternoon, CHP Officer Patrick Kimball confirmed that the young man was a skateboarder. The victim had not been identified by afternoon.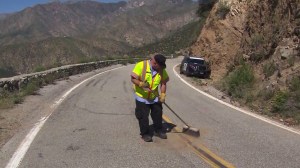 He was headed downhill when, going around a curve, he crossed the double yellow lines and collided with a dump truck traveling uphill, according to CHP.
He was with another skateboarder who managed to swerve out of the way, a CHP sergeant on scene said. A car with other friends inside was riding behind, according to CHP. Witnesses said they believed the car's occupants were just people who stopped to help.
No one else was injured.
"You have blind curves, you have a lot of traffic going up and down, you have unsafe speeds," CHP Sgt. Napoleon Salais said. "It's a recipe for disaster."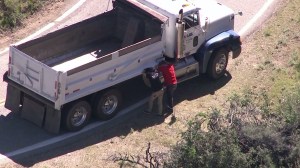 Shortly after the collision, aerial video from Sky5 showed what appeared to be a body covered with a tarp in the middle of the roadway. Two men with their heads in their arms leaned against the truck, which was stopped about 15 feet away. Firefighters were on scene.
A woman who runs a cafe nearby said witnesses initially reported that the skateboarder was lying down on the board when he was struck. But the witnesses later contacted KTLA to clarify, saying that they saw the collision and they believed the skaters were crouching on their boards when the victim was struck.
The witnesses — a brother and sister from out of town who were hiking when they saw the crash — did not want to be interviewed on camera. They were extremely shaken.
Investigators would not say if the skater was on his back or on his feet.
The truck driver was not speeding and was released after being interviewed, according to CHP.
A woman who owns a nearby cafe was asked to call for help by the witnesses. There is no cellphone reception in the area of the crash.
"They were crying. They were traumatized and they were upset; they didn't know what to do," said Trixie Reese. "They said a boy went down on a skateboard and was run over. I was just trying to calm my customers down and get help."
The death occurred in a recreation area of the San Gabriel Mountains that is popular with cyclists, hikers and picnickers.
The roadway is also popular with teens who skateboard downhill, sometimes on their backs, according to comments on the Glendora City News Facebook page. Street luge activity has been going on along the road — known as "GMR" — since the 1970s, according to various skateboarding blogs and forums.
Glendora Mountain Road was closed in both directions amid the investigation, CHP said on Twitter.
KTLA's Jennifer Thang and Scott Williams contributed to this article.
Clarification: An earlier version of this story stated that the witnesses to the crash reported seeing the skateboarder lying down on his board, but in fact that information came to KTLA second hand, and the witnesses later contacted KTLA directly to explain what they saw. The story has been updated to reflect that. 
More Video: