This is an archived article and the information in the article may be outdated. Please look at the time stamp on the story to see when it was last updated.
The pedestrian killed in front of his girlfriend in a suspected
street racing crash
in San Marino was identified Friday as a 49-year-old San Gabriel man, according to the Los Angeles County coroner's office.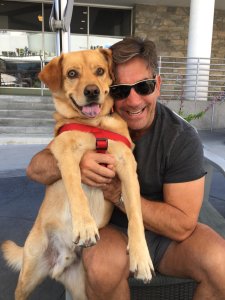 Gabriel Crispo was walking with his dog when they were struck by one of two cars that came barreling down Huntington Drive near Kenilworth Avenue at about 10:35 a.m. Thursday, San Marino Police Department Sgt. Robert Matthews said. Crispo and the dog died after the two cars collided, causing one of them spin out of control and hit them in the center median, police said. Paramedics pronounced Crispo dead at the scene, authorities said. Police said witnesses described seeing a white Mercedes-Benz and a blue Toyota racing  before the collision. Two 17-year-old boys were arrested on suspicion of vehicular manslaughter in connection with the crash, police said. Crispo's girlfriend of 15 years was following behind him when she heard a loud noise, saw a cloud of dirt and grass, then saw Crispo lying in the opposite lanes of traffic, Marino Police Chief John Incontro told KTLA. Flowers and candles marked a memorial Friday on the street where Crispo was killed. Tire skid marks could be seen on the ground nearby. Friends gathered to mourn at the memorial, with some calling the incident a "senseless act." "It could have been prevented," Crispo's friend Christy Neville told KTLA as tears strolled down her face. "It's a tragedy that didn't have to happen."
Friends described Crispo, who taught English as a second language at Pasadena College for 18 years,  as a happy and lovable person, who brought joy to those around him. In a statement, PCC said the campus community is saddened by the "tragic death" of Crispo. "As an individual with energy, passion, and a true joy of life, Gabriel would always greet you with a genuine 'Hello' whenever he saw you," the statement read. "He was deeply committed to his students and his colleagues." Friend and family planned to hold a vigil Friday evening near the crash site, in the center median of of Huntington Drive and Kenilworth Avenue. It was set to take place from 6 p.m. to 9 p.m., and one lane of Huntington Drive would be closed as a result. Anyone with information was urged to contact detectives at 626-300-0728. Tips can also be submitted anonymously to Crime Stoppers at 800-222-8477.
KTLA's Cindy Von Quednow contributed to this story.