This is an archived article and the information in the article may be outdated. Please look at the time stamp on the story to see when it was last updated.
Anaheim police are searching for a hit-and-run driver and a passenger who ran away Wednesday night after crashing into a woman at a street corner memorial constructed for a friend who died at the same intersection a few weeks earlier.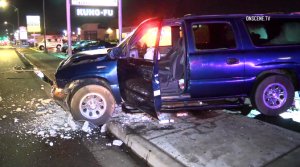 The incident occurred on the southwest corner of North Euclid Street and West Francis Drive about 10:37 p.m., the Police Department stated in a news release.
The unidentified woman was on the sidewalk near the memorial when she was struck by an out-of-control black Chevrolet Suburban, the Police Department stated.
Jason Rodriguez, a friend of the victim, said she was lighting candles for another friend who was recently killed in a motorcycle crash when the SUV came barreling at them.
"I jumped into the street. She jumped into the parking lot," Rodriguez said.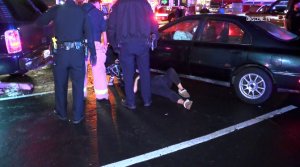 The SUV slammed into a pole but the back end of the vehicle fish-tailed, striking his friend and smashing into her car, Rodriguez said.
The driver and passenger ran from the scene, leaving the SUV behind.
The victim was taken to a local hospital with serious, but not life-threatening injuries, the Police Department stated.
Rodriguez said the victim is 40 years old and was in bad shape following the crash.
"She couldn't feel her back or her hip or anything," Rodriguez said.
Police described the hit-and-run driver and passenger as males.
"We do feel that we are probably, ultimately going to be able to identify the driver but somebody knows about this," Sgt. Daron Wyatt said. "Somebody knows that somebody came home without their car this morning."
Rodriguez said they looked like juveniles, "way too young to even be driving."
He said he was planning to visit the victim in the hospital after leaving the crash scene. "Gotta go stay with her. Make sure she's OK," Rodriguez said.
Anyone with information was asked to call Crime Stoppers at 855-TIP-OCCS.