This is an archived article and the information in the article may be outdated. Please look at the time stamp on the story to see when it was last updated.
A pedestrian who was struck and killed outside a hospital in Van Nuys Tuesday morning had just been released from the facility after receiving treatment, police said.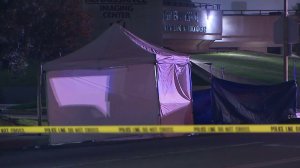 The crash was reported about 2 a.m. on Vanowen Street, just east of Sepulveda Boulevard, Los Angeles Police Department Sgt. Rich Brunson said.
The vehicle was traveling westbound when the driver hit the pedestrian, Brunson said.
The unidentified victim, who had just been released from Valley Presbyterian Hospital, was pronounced dead at the scene, Brunson said.
The driver stayed at the scene following the crash and was cooperating with investigators, Brunson said.