This is an archived article and the information in the article may be outdated. Please look at the time stamp on the story to see when it was last updated.
A woman was killed in a violent three-vehicle crash in North Hollywood after a car "landed on top of her" while she was standing on the sidewalk Tuesday afternoon, Los Angeles Police Department Sgt. David Delgado told KTLA.
The crash occurred at about 3:10 p.m. in the 11000 block of Victory Boulevard, according to the Los Angeles Fire Department. A BMW driven by an identified male in his 20s was traveling northbound on Vineland Avenue at a high rate of speed and ran a red light, colliding with another vehicle in the intersection that was coming in southbound and making a turn onto Victory Boulevard, Delgado said a preliminary investigation revealed. The impact from the collision caused the BMW to veer off the roadway and spin into a nearby CVS pharmacy parking lot, colliding with an unoccupied parked vehicle, ricocheting off and smashing into a CVS sign, and then bouncing back onto the sidewalk where the woman was standing, landing on top of her, Delgado said.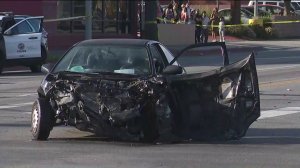 Civilians tried to get the vehicle off the woman before the fire department responded and transported her to a nearby hospital where she was pronounced dead, according to LAPD. Authorities did not identify the victim. An officer at the scene described her as a female in her 60s. LAPD Media Relations Officer Tony Im described her as being in her late 70s. The BMW's driver suffered minor injuries and was transported to a hospital, along with the other vehicle's female driver whose condition was unknown, according to authorities. Police said an investigation was underway to determine whether the driver was intoxicated at the time of the incident. Aerial video from Sky 5 showed one of the vehicles in the CVS parking lot, another stopped near a bus stop bench on the sidewalk and one in the middle of the intersection. All three appeared to have sustained major damage. The BMW "went up in the air" when it hit the curb and "carried for significant distance" until it hit the parked car, LAPD said. Authorities did not provide information on the speed the BMW was driving at, but Delgado said it was over the speed limit. No further information was available.
KTLA's Nidia Becerra contributed to this story. 
Correction: A previous version of this story gave the wrong date. This story has been updated.