This is an archived article and the information in the article may be outdated. Please look at the time stamp on the story to see when it was last updated.
Authorities have connected a man fatally shot by undercover police in North Hollywood Thursday to an armed robbery in Canoga Park the previous weekend.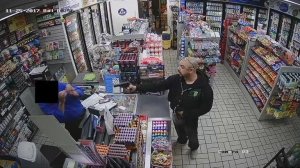 In a statement released on Friday, the Los Angeles Police Department said the so-called "penny pincher bandit" was the same individual who died from a gunshot wound after a confrontation with police in the North Hollywood area.
The unidentified suspect was allegedly armed when he walked into a Topanga area gas station before midnight Saturday and stole more than $800 in cash, including change from a take-a-penny-leave-a-penny tray.
Undercover officers were investigating the robbery in North Hollywood Thursday when they spotted the suspect, according to Lt. Chris Ramirez.
The man jumped into a vehicle and tried to flee before getting out of the car, at which point police started shooting, Ramirez said.
The suspect was transported to a hospital where he died of a gunshot wound, according to Ramirez.
"All information is still preliminary as a series of forensic tests and witness statements have yet to be completed," the LAPD said in a statement.