This is an archived article and the information in the article may be outdated. Please look at the time stamp on the story to see when it was last updated.
A Bengal tiger cub that was illegally trafficked into California from Mexico has been rescued, and the 18-year-old man accused of smuggling the endangered animal into the U.S. has been charged in the case, federal authorities said Thursday.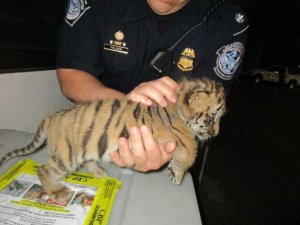 Luis Eudoro Valencia, of Perris, allegedly had the tiger cub — which is protected under the Endangered Species Act — in his vehicle when he drove a 2017 Chevy Camaro into the Otay Mesa Port of Entry at around 1:30 a.m. Wednesday, according to a news release from U.S. Customs and Border Protection.
The tiger cub was discovered during a secondary inspection, on the floor of the front passenger side of the Chevy, authorities said.
When asked if the animal was a tiger, a 21-year-old passenger told officers it was "just a cat," a criminal complaint stated.
Valencia allegedly failed to declare it to officers prior to the inspection, according to a U.S. Department of Justice news release.
Upon discovering the animal, officers placed it in a crate as they awaited U.S. Fish and Wildlife agents to arrive at the border crossing.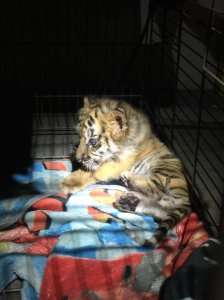 Authorities later took the tiger cub to San Diego Safari Park, where a biologist was able to confirm the species, the complaint stated.
The defendant told authorities he bought the cub for $300 in Tijuana after encountering someone who was "walking a full-sized tiger on a leash," according to the complaint. He intended to take the cub home and keep him or her as a pet.
When he was questioned later, Valencia allegedly said he was in communication with the seller prior to his trip to Mexico. Photographs found on his cellphone revealed "numerous photos" of different tiger cubs, including the one he purchased, according to the complaint.
A video on the phone also showed the passenger opening a "specially built compartment" that investigators say is used to smuggle animals, the complaint said.
It is illegal to import an endangered species into the U.S. without the required permit from Fish and Wildlife, the department's release stated. Further, it requires a declaration form be filed first.
Valencia is accused of not having the permit or filing the declaration, according to the complaint.
The teen faces charges of unlawful importation and smuggling, which carries a maximum penalty of 20 years in prison, authorities said.
He was released on a $10,000 bond and is scheduled to appear in court on Sept. 5.
This slideshow requires JavaScript.