This is an archived article and the information in the article may be outdated. Please look at the time stamp on the story to see when it was last updated.
California lawmakers are pushing to increase regulation of home schools after a dozen siblings were discovered locked in a dirty, dark house in Riverside County.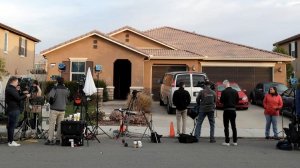 The house in Perris had been registered as a private school — with the cheery name of Sandcastle Day School.
Last month, after a malnourished 17-year-old escaped and alerted authorities to the abuse she and her 12 siblings, ages 2 to 29, had endured there, her parents were arrested and charged with multiple counts of torture and child endangerment. David Turpin, 56, and Louise Turpin, 49, have pleaded not guilty to the charges against them and a judge has barred them from contacting their children.
David Turpin had registered with the state as the principal of Sandcastle Day, saying six school-age children were enrolled.
Read the full story on LATimes.com.