This is an archived article and the information in the article may be outdated. Please look at the time stamp on the story to see when it was last updated.
An armed man who had barricaded himself inside a La Puente residence was found dead of a self-inflected gunshot wound Sunday afternoon following an hourslong standoff with law enforcement, according to the Los Angeles County Sheriff's Department.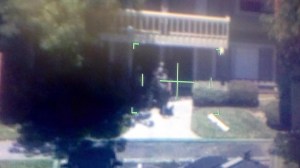 Deputies originally responded to the 900 block of Willow Avenue just before 12:30 a.m. after receiving a report of a domestic violence dispute, a sheriff's Deputy Smith said.
When officers arrived at the residence, they found a woman who confirmed she had been involved in a domestic dispute with her husband inside the home, according to Smith. She told deputies he was armed with a rifle.
A sheriff's Special Enforcement Bureau team arrived on scene after the armed man refused to come out of the house, Smith said.
At one point, they observed the man in the residence with the rifle.
As the standoff went on, surrounding homes were temporarily evacuated, according to the Sheriff's Department.
Sometime before 1 p.m., authorities made entry into the home and found the man dead of a self-inflicted gunshot wound, Smith said, adding that a rifle was found near the body.
The man's identity has not been released. No further information about the domestic dispute was provided.
KTLA's Crystal Garcia and Geoff Peters contributed to this story.