This is an archived article and the information in the article may be outdated. Please look at the time stamp on the story to see when it was last updated.
A person died after being hit with an object and run over by a vehicle at a Santa Ana park Monday night, officials said.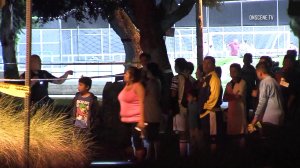 The incident was reported about 7:10 p.m. at Centennial in the 3000 block of West Edinger Avenue, Santa Ana Police Cpl. Anthony Bertagna told KTLA.
The victim, later identified as 22-year-old Louis Diaz, was involved in a fight. He was then run over by the vehicle as those involved were leaving the scene, Bertagna said.
Diaz was taken to a hospital where he was pronounced dead. He was a married man with a small child, Bertagna added.
The person or people involved in the incident got away in a dark-colored vehicle from the west end of the park by a riverbed.
More than 100 people were being questioned at the soccer fields at the park after the incident Monday night as police combed through the large scene, the corporal added.
It is unclear what led up to the fight and the entrance of the park was blocked off with police tape.
No arrests have been made in connection with the fight.
KTLA's Nidia Becerra contributed to this story.