This is an archived article and the information in the article may be outdated. Please look at the time stamp on the story to see when it was last updated.
A person was found dead after a fire ignited Thursday afternoon inside a Rosemead condominium that was possibly involved in "narcotics activity," authorities said.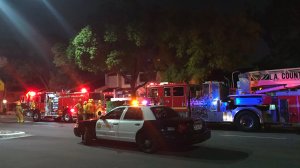 The fire was reported just before 5 p.m. at a two-story condominium building in the 8300 block of Rush Street, east of San Gabriel Boulevard, Los Angeles County Fire Department Capt. Ron Singleton said.
Firefighters arrived to find smoke emanating from a bedroom window, he said.
"Upon the secondary search of the residence, which is standard procedure during a structure fire like this, one deceased victim was found inside the condo," fire Capt. Tony Imbrenda said.
The victim had suffered burns and was pronounced dead at the scene, Deputy Ed Luna fo the Los Angeles County Sheriff's Department Information Bureau said in a written statement. The person's age and gender were not clear.
Detectives from the Sheriff's Homicide Bureau responded to the scene to take charge of the investigation, Luna said.
While fire officials initially said the condominium appeared to be used to grow marijuana, Sgt. Richard Biddle of the Los Angeles County Sheriff's Homicide Bureau said that ultimately was determined not to be the case.
"There's evidence of narcotics activity, possibility the sales of marijuana, at the location," Biddle said.
No one else was at the condo at the time of the fire, he added.
It was not yet clear whether the victim died as a result of the fire, Imbrenda said.
"Due to circumstances inside the resident that gave firefighters reason to believe they may be in a crime scene," firefighters withdrew from he building after extinguishing the flames and notified sheriff's officials, he said.
"The nature of the individual's death is suspicious," Imbrenda.  He declined to discuss details of the scene.
It took firefighters about 30 minutes to put out the blaze, the captain said.
Officials evacuated nearby homes as sheriff's officials conducted an investigation, since firefighters had not had a chance to go through the home thoroughly to ensure against re-ignition, according to Imbrenda.
The cause of the fire was yet to be determined, officials said. But officials noted a lack of safety equipment at the home.
"Lack of working smoke detectors likely contributed to this tragic loss of life," fire officials said in a written statement.
Anyone with information can reach the Sheriff's Temple City Station at 626-285-7171. Tips may also be submitted anonymously to L.A. Regional Crime Stoppers at 800-222-8477.
KTLA's Nidia Becerra contributed to this report.
Battalion 10 units on single fatality house fire in the city of Rosemead. One individual has unfortunately lost their life. @LACOFD Arson investigators assisting @LASDHQ in cause determination. Lack of working smoke detectors likely contributed to this tragic loss of life. pic.twitter.com/EPtmwdFJiS

— L.A. County Fire Department (@LACoFDPIO) March 1, 2019