This is an archived article and the information in the article may be outdated. Please look at the time stamp on the story to see when it was last updated.
A person was in custody following a police shooting that took place amid a search for a burglary suspect in Santa Monica on Thursday afternoon, officials said.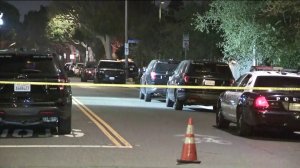 The incident was first reported about 6:20 p.m. in the area of Pine and 11th streets, the Santa Monica Police Department said via social media.
A man arrived home and discovered an intruder inside his Pine Street home house, Santa Monica police Lt. Candice Cobarrubias said.
"The male then pointed a firearm at the resident, at which time the resident fled from the location, ran to a neighbor's house and called 911," the lieutenant said.
Responding police officers encountered the suspect in front of the victims' home, still clutching a gun, Cobarrubias said. The armed suspect fled, and police set up a search perimeter with the help of a Los Angeles Police Department police helicopter.
Officers soon found the man hiding in a yard in the 1100 block of Cedar Street.
"As we made our way to the suspect and have him commands, he had a firearm in his hand. An involved shooting occurred," Cobarrubias said. "The suspect was still noncompliant, so we deployed the K-9, at which time we were able to take him into custody."
The suspect was taken to a hospital, where he was listed in stable condition, she said. He was estimated to be between 25 and 30 years old. His identity was not available Thursday night.
No officers were hurt during the incident.
Officer-Involved Shooting (OIS) near 1100 block of Pine Street. Officers continue their investigation. Note: THE SUSPECT IS IN CUSTODY. We appreciate your patience as information is gathered. Updates will be provided when available.

— Santa Monica Police (@SantaMonicaPD) September 13, 2019
ALL RESIDENTS IN THE AREA PLEASE SHELTER IN PLACE. Follow all orders of law enforcement personnel in the area.

— Santa Monica Police (@SantaMonicaPD) September 13, 2019