This is an archived article and the information in the article may be outdated. Please look at the time stamp on the story to see when it was last updated.
A person of interest has been detained in connection with a road-rage incident in Long Beach and a fatal shooting in Paramount on Sunday, according to the Los Angeles County Sheriff's Department.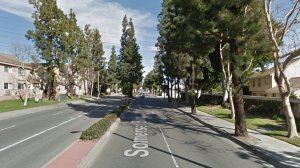 The man, who was driving a red Lexus, allegedly discharged several rounds of a gun into the air during a road-rage incident near the intersection of Artesia Boulevard and Atlantic Avenue in Long Beach sometime Sunday afternoon.
He then drove to an apartment complex in the 8600 block of Somerset Boulevard in Paramount and allegedly tried to carjack another man. The victim was shot and killed and the gunman drove away from the area in the Lexus, authorities said in a news release.
He then apparently carjacked people in a red Mustang at gunpoint at the intersection of Garfield Avenue and Alondra Boulevard. The people in that car were not injured during the incident.
The man drove away from the scene and crashed into a Cadillac near the intersection of Greanleaf Avenue and Long Beach Boulevard in Compton. The driver of the Cadillac suffered minor injuries, officials said.
A person was taken into custody after the crash, but authorities later said that person was not responsible for the homicide in Paramount.
Los Angeles Police Department officials detained another person in connection with the killing and sheriff's officials called him a person of interest.
The incidents are under investigation and no further details have been released.
Anyone with information about the crime can call Los Angeles County Sheriff's Department Homicide Bureau at 323-890-5500.