This is an archived article and the information in the article may be outdated. Please look at the time stamp on the story to see when it was last updated.
Family and friends gathered at an emotional vigil to remember a 19-year-old La Habra woman who was stabbed to death Friday, allegedly by her boyfriend.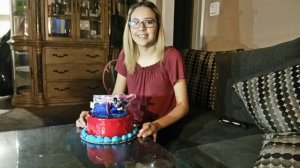 Salina Marie Araiza was found in a vehicle with multiple stab wounds around 6:10 a.m., near a strip mall in the 900 block of West Whittier Boulevard, officials said.
Police had responded to the scene after receiving a disturbance call about a man with a knife; when they arrived, officers found a man carrying a knife who had blood on his clothes, Cindy Knapp of the La Habra Police Department said.
The man also had a neck wound.
Police had to use a stun gun and 40 mm "sponge rounds" to subdue the man who initially refused to drop his weapon "in an apparent attempt to cause an officer shooting," officials said. He was taken to a hospital for his wound.
Officials eventually identified him as Jose Bojorquez, 18, of La Habra. The suspect remains hospitalized and is expected to be booked on suspicion of murder at a later time, according to a police news release.
Araiza died at the scene.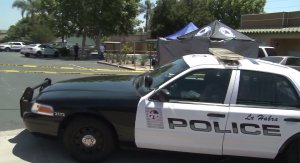 Police said Bojorquez and Araiza were dating prior to the fatal stabbing.
Maida Garcia, a former neighbor who knew both Araiza and Bojorquez, said the couple had a troubled relationship.
"It's like constantly arguing and I told my husband that it was not a really healthy relationship and they were so young," Garcia told KTLA. "I am still in shock."
At the vigil, Melissa Camarillo, a friend of the victim's, told KTLA the couple had a turbulent relationship for about three years. She said he'd always woo her back, sometimes brining her flowers at work.
According to Camarillo, Bojorquez would call her names and be mean to her. Araiza, finally having enough, broke up with him.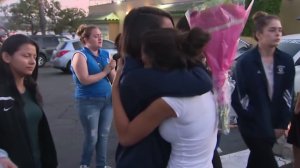 "They were always arguing all the time. They'd always argue constantly. And I told her, 'If you're not happy, then leave.' And it ended up to this, at the end," she said.
The scene where the slain teen was found is near La Habra High School, where Araiza went to high school, according to Camarillo, who graduated with her.
The two attended Cypress College together and hoped to become nurses. Araiza was working the night shift at McDonald's in order to pay her way through school, Camarillo said.
She added Araiza was the type of person who knew how to brighten your day, even if you were having a bad one.
"Every time we'd be down, we'd be sad, she's always have something fun and funny to say. … If you had a bad day, she'd always be, you know, making us laugh." Camarillo said.
KTLA's Alberto Mendez, Nisha Gutierrez-Jaime and Tracy Bloom contributed to this story.