This is an archived article and the information in the article may be outdated. Please look at the time stamp on the story to see when it was last updated.
Detectives released a composite sketch of a man they are seeking as a person of interest in the 2009 shooting death of a prominent attorney on Wednesday.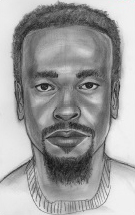 Officials are hoping to identify and question the person, described as a black man in his 30s, in the execution-style shooting of 53-year-old Jeffrey Tidus, a well-known civil litigator, outside his Rolling Hills Estates home in December 2009, the Los Angeles County Sheriff's Department said in a news release.
Tidus had just returned home from a fundraiser in Redondo Beach on the evening of Dec. 7, 2009, when he decided to resume work on a case, according to investigators.
It was around 8:30 p.m., and he went out to his car parking in the driveway to retrieve his work laptop. As he did so, someone came up behind him and shot him once in the head, deputies said.
He was rushed to UCLA Harbor Medical Center but died a day later as a result of his injuries.
Detectives had investigated the case for years with no arrests made, but late last month held a press conference with Tidus' wife to announce new leads in the case.
Though officials could not disclose specific details about the nature of the new information, they said it indicated Tidus' death was related to his work as a civil litigator at the law firm of Baute & Tidus, where he was a partner.
Sheryl Tidus, the victim's wife of 25 years, said she not aware of any enemy or enemies who may have wanted to harm her husband.
A $100,000 reward — including $90,000 put up by the victim's family on top of $10,000 approved by the L.A. County Board of Supervisors — is being offered for information leading to the arrest and conviction of the person responsible for Tidus' death.
Anyone with information about the case is urged to contact detectives R. Kenny or J. Espino at 323-890-5500.
Additionally, those who prefer to leave a tip anonymously can call Crime Stoppers by dialing 1-800-222-8477.