This is an archived article and the information in the article may be outdated. Please look at the time stamp on the story to see when it was last updated.
Police on Tuesday were looking for a man seen on surveillance video outside a Riverside home where four dogs where later found with fatal stab wounds.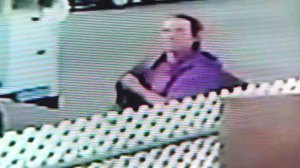 On Sunday morning, Robert Carter found five of his seven Chihuahua-pug mixes stabbed in the yard of his home in 2300 block of Vermont Avenue.
Two of the dogs were dead, two others were so badly wounded they had to be euthanized by animal control officers, Carter said.
One of the dogs, named Sainty, survived the attack and was recovering with a broken rib.
A verbal altercation between Carter and a man he described as a transient was caught on surveillance video last Thursday.
In the video, the stranger tells Carter, "Your dogs are bothering me dude."
The man had a knife in his hand and was reaching over the fence when I told him to get away from my dogs, Carter said.
At one point, the man called him a racial epithet and threatened to return, according to Carter.
"I didn't think anything and then I went to take care of my grandmother and I come back and find my dogs are dead," Carter said.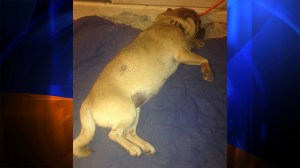 Carter believed the dogs were stabbed in the early morning hours, when they were sleeping outside overnight. However, Carter's surveillance cameras were not working at the time of the attack.
Authorities have named the man in the video a "person of interest" in their investigation.
Anyone who may recognize the man or have any information about the incident was asked to call Riverside police at 951-826-5700.