This is an archived article and the information in the article may be outdated. Please look at the time stamp on the story to see when it was last updated.
Long Beach investigators upgraded a man from a person of interest to an official suspect in connection with the shooting death of a mother and her 4-year-old daughter.
Detectives upgraded the man's status after reviewing surveillance footage released last month and tracking the man from the murder scene, police said.
Carina Mancera, 26, and her daughter, Jennabel Anaya, were shot to death at close range near East Ninth Street and Locust Avenue as they returned home from the grocery store on the night of Aug. 6, according to the Long Beach Police Department.
Mancera was shot multiple times and died at the scene. Her daughter was pronounced dead at a local hospital early the next morning.
The attacker also shot at 27-year-old Luis Anaya, Mancera's longtime boyfriend and Jennabel's father, who was with them at the time. He was not hit by the gunfire.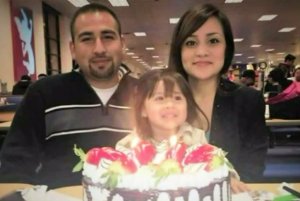 The suspect appears on two surveillance videos taken just after the shooting, according to police Chief Robert Luna. In both videos, he is seen with a wheeled piece of luggage.
The first video shows the man in a downtown Long Beach convenience store where he appears nervous and repeatedly wipes his face and head with a cloth.
In the second video, the man is shown boarding the Blue Line Metro train at Fifth Street and Long Beach Boulevard. He exits the train at the San Pedro Street station, in the south part of downtown Los Angeles, Luna said.
Police believe the man may have fled California. He is described as African American, in his 20s or 30s, of medium height, 220 to 250 pounds, and with facial hair.
Investigators are offering a $40,000 reward for information leading to the arrest and conviction of the person responsible for the shooting.
Anyone with information is asked to call the Long Beach Police Department at 562-570-7244. Anonymous tipsters can call 800-222-8477, texting "TIPLA" plus the tip to 274637, or by going to the website lacrimestoppers.org.