This is an archived article and the information in the article may be outdated. Please look at the time stamp on the story to see when it was last updated.
A man was fatally shot in North Hollywood Saturday evening and the suspected gunman is being questioned by police but not arrested, according to the Los Angeles Police Department,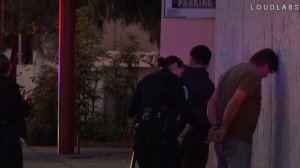 A call about a shooting in the 6000 block of Lankershim Boulevard came in just before 6 p.m., an LAPD officer said. The officer initially said it happened at the Flamingo Motel in that block, but LAPD officials later said the shooting was just outside an auto parts next door.
An employee of that store allegedly saw a man trying to break into a car when he confronted him, police said. It is unclear what exactly happened in those moments and it is also not known if the man fatally shot was armed at the time.
But the employee shot at the man, killing him, police said.
Video of the scene showed a man handcuffed and standing before a wall, along with another man next to him whose wrists appeared to be in zip ties. Police have not released further details about the victim or the suspected gunman.
No further information about the incident was released by LAPD.