This is an archived article and the information in the article may be outdated. Please look at the time stamp on the story to see when it was last updated.
A male driver who was shot and then crashed his SUV into a children's museum in Lake View Terrace died at the scene on Monday afternoon, police said.
A call came in of shooting at about 2:27 p.m. near Terra Bella Street and Foothill Boulevard, according to Los Angeles Police Department Detective Ross Nemeroff.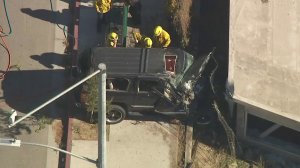 Responding police found a victim who had been shot before crashing into a building in the 11800 block of Foothill Boulevard, about a quarter mile from the initial shooting report. The victim was not conscious or breathing when officers arrived.
A police captain on scene said a car-to-car shooting occurred, and then the SUV driver lost control and struck another vehicle. The female driver of that second vehicle is believed to be OK.
It's not clear if the male driver of the SUV died from the shooting or the crash, police said. The victim was described only as a Hispanic male.
The shooter fired several shots before fleeing the scene, Nemeroff said. No description of the gunman or the vehicle used in the shooting was provided by LAPD by early evening.
Aerial video from Sky5 showed an SUV – a 2001 GMC – had slammed head on into the Discovery Cube in L.A., a children's museum.
KTLA's Melissa Pamer and Jennifer Thang contributed to this article.