This is an archived article and the information in the article may be outdated. Please look at the time stamp on the story to see when it was last updated.
Officials were searching for the person who stabbed a man on a Metro bus in the Hawthorne, Gardena area Wednesday morning, according to the Los Angeles County Sheriff's Department.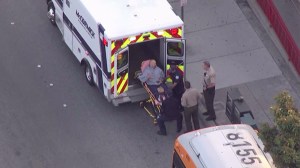 Sheriff's deputies responded to reports of an assault with a deadly weapon near West Rosecrans Avenue and Crenshaw Boulevard (map), bordering the two cities, around 6:15 a.m., Lt. Sullivan said.
A knife or box cutter was used in the attack, Sullivan said.
The victim was "in good spirits" when transported to Harbor General Hospital, department spokesman Ramon Montenegro said.
He was cut on the face, and appeared to be awake and sitting upright when put into an ambulance, Sky5 aerials showed.
Sullivan could not confirm the man's condition, but said his injuries were not life-threatening.
An eyewitness provided sheriff's deputies with a description of the attacker, and a man was detained around 7 a.m.
However, the eyewitness could not positively identify the man detained and sheriff's deputies continued searching for the attacker, Montenegro said.
The attacker was last seen heading westbound on West El Segundo Boulevard from Crenshaw Boulevard, a watch commander with the Hawthorne Police Department said shortly after the stabbing. Sheriff's officials were handling the investigation, they added.
Montenegro did not know what led up to the attack.
KTLA's Justin Burton contributed to this report.