This is an archived article and the information in the article may be outdated. Please look at the time stamp on the story to see when it was last updated.
Citing California's drought conditions, online petitioners are attempting to convince officials to cancel plans for a giant slip 'n' slide in Los Angeles.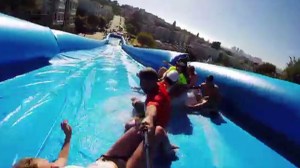 Slide the City, a traveling event organized by San Diego's McFarlane Promotions, is scheduled to set up the vinyl water slide on Olive Street, between 3rd and 6th streets, on Sept. 27, the L.A. Downtown News reported.
The announcement prompted a petition on thepetitionsite.com that describes the plan as "extremely irresponsible" amid the drought.
The online effort had garnered more than 1,700 signatures as of Monday morning.
Information about Slide the City events is available at slidethecity.com.