This is an archived article and the information in the article may be outdated. Please look at the time stamp on the story to see when it was last updated.
SAN MARINO, Calif. (KTLA) — A convicted murderer who once posed as a member of the Rockefeller family was sentenced to 27 years to life in prison on Thursday.
Christian Gerhartsreiter, 52, was convicted back in April in the decades-old killing John Sohus, of San Marino.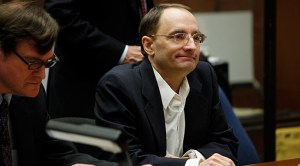 Last month, Gerhartsreiter acted as his own attorney in an attempt to delay his sentencing, but the judge denied his request.
Sohus and his wife, Linda, disappeared in 1985. His remains were found in the family's backyard nearly 10 years later.
Gerhartsreiter was also suspected of being involved in the disappearance of Linda Sohus. Her body was never found.
Gerhartsreiter rented a guest house from the Sohuses in the early 1980s, using the name Chichester.
Shortly after John and Linda Sohus disappeared, Gerhartsreiter moved to Connecticut with the couple's truck.
Police investigated the disappearance, but the case went cold.
It wasn't until nine years later, in 1994, that workers digging a swimming pool for a new homeowner uncovered John Sohus' bones.
Prosecutors alleged that Gerhartsreiter crushed the victim's skull, cut up his body with a borrowed chain saw and then buried him in the backyard.
The defense argued that Gerhartsreiter was innocent, claiming the prosecution has not identified a clear motive for the killing.
Gerhartsreiter used at least five different identities across the country for more than two decades, including the name Clark Rockefeller, to avoid arrest, according to authorities.
He was serving time in Massachusetts for kidnapping his daughter during a supervised visit when he was charged in Sohus' murder in 2011.
Gerhartsreiter was near the end of that sentence when he was extradited to California to stand trial.