This is an archived article and the information in the article may be outdated. Please look at the time stamp on the story to see when it was last updated.
June Emerson made a startling discovery while reviewing the photos she took during a visit to Manhattan Beach on Friday.
Among the images is one that shows her 12-year-old son Quinn and his friend, both with their surfboards, in front of a breaking wave – and what appears to be a rather sizable shark.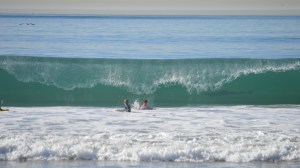 "It was quite a shock to see" the photo, June Emerson said.
"Many local surfers and lifeguards have seen this and believe it to be a shark," she said. "Of course, I told my kids it was dolphin, as we live at the beach and are in the waters here almost daily."
Sightings of great white sharks are not uncommon near Manhattan Beach.
Thrill-seekers have sought out the predators and posted their close encounters on YouTube. Researchers, however, warn that the sharks will attack if they feel threatened.
"There are two different things in your head," paddleboarder Jay Dohner told the Los Angeles Times after using his helmet-mounted camera to record three great whites. "'Wow, that's beautiful,' and 'We should get out of here.'"