This is an archived article and the information in the article may be outdated. Please look at the time stamp on the story to see when it was last updated.
The photo of a man who authorities believe stabbed someone multiple times in Lancaster, before fleeing the scene earlier this week, was released by the Los Angeles County Sheriff's Department on Thursday.
Authorities are still searching for the man accused of attacking another person on Tuesday. He's wanted on suspicion of assault with a deadly weapon.
The alleged stabbing attack happened near the Stater Bros. grocery store located by 20 Street East and Avenue J, officials said.
The suspect was allegedly rummaging through the backpack of the victim before he started stabbing the person once confronted about going through the bag, sheriff's deputies said.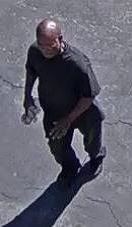 He is described as a 40-year-old black man who stands about 5 feet, 6 inches tall and is known to frequent the intersection where the attack happened, according to sheriff's officials. The department also said he may be homeless and ride a black bicycle, and he also may be wearing a white goatee.
Anyone with information about the suspect can contact Detective Kaylee Volk at 661-940-3886 and anonymously tips can be forwarded to 800-222-8477.