This is an archived article and the information in the article may be outdated. Please look at the time stamp on the story to see when it was last updated.
The Pentagon on Tuesday confirmed the authenticity of a photo showing a high-profile missile launch off the coast of Southern California, despite oddities in the image's technical data.
The photograph — posted on the U.S. Strategic Command's website Monday — showed a trident II D-5 ballistic missile launching from the USS Kentucky, an Ohio-class military submarine. According to the caption, the image was taken Saturday, Nov. 7.
Digital photographs are automatically stamped with metadata created by the camera, ranging from date to exposure to focal length. Some photos, usually taken by cellphones, even include location data.
In the metadata of the missile launch photo, the date created was listed as April 16, 2012 — more than three years before Saturday's launch. The incorrect date is mentioned again in a comment field, along with the apparent name of a different vessel: "USS Maryland."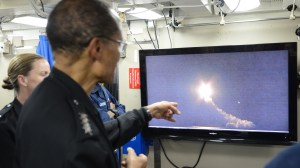 When asked about the discrepancies, the U.S. Department of Defense chalked it up as a metadata error.
"We're confident that's the right shot, but just bad metadata," Major Matt Miller of the United States Strategic Command told KTLA on Tuesday.
The image was taken by a military contractor, which is currently investigating the issue, and a similar time stamp issue was reported with a launch Monday, Miller said.
"It's as simple as that," Miller said. "It's as simple as the equipment wasn't recalibrated, cleared out and adjusted properly."
Other U.S. Navy images in the set were dated Nov. 6 or 7.
The unarmed Trident missile caused quite a stir Saturday shortly after dusk, with hundreds across the state reporting a mysterious bright object streaking through the sky. Dozens of photos were sent to KTLA (embedded below), and speculation about the mystery light's origins included comets and aliens.
The newly released images from the Pentagon mark the first to publicly show the origin of the launch, including scenes from inside the USS Kentucky.
This slideshow requires JavaScript.