This is an archived article and the information in the article may be outdated. Please look at the time stamp on the story to see when it was last updated.
Photos of a "filthy" Gramercy Park Ralphs supermarket posted on social media last week have sparked outrage.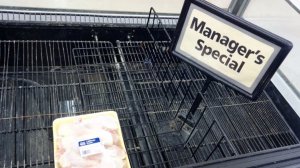 On Jan. 4, Kandice Hill took photos of what she considered unsanitary conditions at the store, located at 1730 W. Manchester Ave. , and later posted them on her Facebook. The post has since been shared more than 2,000 times.
"It's filth, it's grime... I would say it's beyond unsanitary," Hill said.
"There's so much stuff. You can't tell if it's rodent droppings or mold. To me it's probably both."
Hill said she contacted the Los Angeles County Department of Public Health and alerted officials about the conditions.
Kendra Doyel, a spokesperson for the grocery company told KTLA that the condition of the store is "not something we're proud of."
"It was something that immediately when it was brought to our attention, we wanted to make sure and remedy," Doyel said.
Officials plan to remodel the store this year and the location passed its health inspection today, Doyel added.
But neighbors believe the store has been neglected because of the surrounding demographics.
"You have a lot of people who are lower income in the area. That plays a big role," said customer Omar Brewster, who says he drives miles away to shop in a different part of town.
In her Facebook post, Hill said she believes that particular store "has exploited its predominantly African American and Latino community."
The matter will be discussed at a Southwest Neighborhood Council Meeting on Jan. 23 at the Constituent Service Center, 8475 S. Vermont Ave. at 6 p.m.