This is an archived article and the information in the article may be outdated. Please look at the time stamp on the story to see when it was last updated.
Editorial note: The following story includes images of two dead women. The pictures were released as part of the Ventura County Cold Case Unit's effort to identify the victims.
The Ventura County Sheriff's Office renewed its plea for the public's help in identifying two women who were killed in 1980 on Wednesday, when the victims' suspected killer was arrested.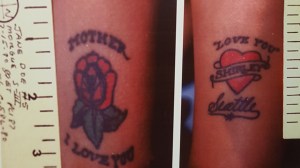 Wilson Chouest, 63, was arrested on suspicion of murder after DNA evidence linked him to the two female victims, the Sheriff's Office stated in a news release.
At the time he was identified as a suspect, Chouest was serving a life sentence in state prison for the kidnap, robbery and rape of one female victim, and for kidnapping and robbing another woman, the release stated. The crimes occurred in Tulare County in August and September of 1980.
"This guy is a true monster," Ventura County Undersheriff Gary Pentis said at a news conference.
In addition to announcing the cold case arrest, Ventura County authorities released photos and descriptions of the two deceased female victims in an effort to identify them.
The first victim, Jane Doe 1, was between the ages of 25 and 35 years old when she was found dead in an almond orchard in Kern County on July 15. She was 5 feet 4 inches tall, with brown hair and brown eyes, and believed to be either Hispanic or Native American.
She had tattoos on her left arm and may have gone by the name Rebecca Ochoa, or Becky.
Jane Doe 2's body was found in the parking lot of Westlake High School on July 18. Investigators later determined the woman was sexually assaulted, stabbed and strangled to death in another location, according to the release.
Her body was then dumped in the parking lot.
She was described as being approximately 20- to- 30 years old, about 5 feet 3 inches tall, and possibly Hispanic. She had black hair with bleached ends, and brown eyes with penciled eyebrows.
An autopsy revealed she was 5 months pregnant with a son, who did not survive.
Both women were killed in a similar fashion, with a similar weapon, according to Sgt. Joe Evans of the Sheriff's Office.
"Despite not being able to identify the women, the investigation did develop evidence that showed Chouest was responsible for the deaths of the two women and the unborn child," the release stated.
Both women had previously given birth, according to the Sheriff's Office. Evans estimated their children would be in their 30s or 40s today.
"Somewhere, there are two families whose mothers disappeared in July of 1980, never to be heard from or seen again," officials said in the release. "We'd like nothing more than to bring the families answers and return their loved ones to them."
Authorities said Chouest did not know his victims.
He was scheduled to be arraigned on Thursday.
Correction: An earlier version of the text of this story spelled the undersheriff's last name incorrectly. The story has been updated with the correct spelling.
Wilson Chouest is pictured in a 1978 booking photo released by the Ventura County Sheriff's Office.

Wilson Chouest is seen in a booking photo taken in 1980, according to the Ventura County Sheriff's Office.

The Ventura County Sheriff's Office released this image of Wilson Chouest, who was arrested Sept. 30, 2015, on suspicion of murder in the slaying of two women and an unborn child.

"Jane Doe" was found dead in 1980.

Authorities released this image in an effort to ID the woman.

She had this tattoo on her upper, left arm.

This tattoo was on her lower, left arm.

This unidentified woman was found dead in the parking lot of Westlake High School in Thousand Oaks.

Authorities are asking for help identifying her.

Anyone with information was asked to contact investigators via email at coldcase.187@ventura.org. Tipsters can also call Crime Stoppers at 800-222-TIPS (8477).