This is an archived article and the information in the article may be outdated. Please look at the time stamp on the story to see when it was last updated.
A 7-year-old boy was found safe Thursday after a pickup truck he was in was carjacked in the Mid-Wilshire neighborhood of Los Angeles on Thursday afternoon.
The carjacking took place just after 3 p.m. at Wilshire Boulevard and Orange Grove Avenue, Los Angeles Police Department Officer Tony Im said.
It was believed to have resulted from an argument between the child's father and a 26-year-old man LAPD Capt. Timothy Nordquist described as a "lifelong friend" of the father.
"After the dispute, one of the friends drove off in the vehicle of the other man," the captain said.
The gray, 2001 Chevrolet Silverado was taken by force,  police said.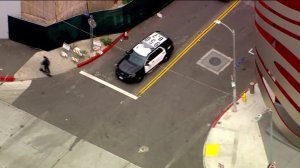 Police found the truck along Elm Drive, near Wilshire Boulevard, in Beverly Hills about two hours later, Im said. But the suspect and the child were still missing.
Police contacted the family of the suspect and were able to coordinate with him to bring the child to a police station, Nordquist said. He complied, and the child appeared unharmed.
"A no time do we believe the son was in danger," according to Nordquist.
Officers arrested Nicky Jace, 25, of Beverly Hills on suspicion of carjacking and kidnapping, he said.
The father described the suspect to KTLA as the boy's uncle.
KTLA's Matt Phillips contributed to this story.