This is an archived article and the information in the article may be outdated. Please look at the time stamp on the story to see when it was last updated.
The driver of a pickup truck whose abandoned vehicle was struck by a Metrolink train, causing a fiery wreck and injuring dozens of people in Oxnard, was released from jail Thursday night after no charges were filed against him by a 48-hour deadline.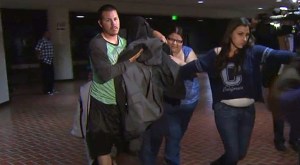 Jose Alejandro Sanchez-Ramirez, a 54-year-old truck driver from Yuma, Arizona, was taken into custody Tuesday after the predawn crash, which caused the commuter train to derail.
Sanchez-Ramirez was arrested by Oxnard police on suspicion of hit-and-run with injuries and had been slated to appear in court Thursday afternoon.
Ventura County District Attorney Gregory Totten announced that no charges were to be filed "at this time."
A brief statement from the DA's office described Sanchez-Ramirez's arrest as "clearly appropriate and lawful" but said prosecutors will wait for the conclusion of an ongoing investigation before deciding whether to file charges.
"The ongoing investigation of this matter is complex and involves numerous local and federal agencies," the statement read.
Outside the Ventura County courthouse on Thursday afternoon, Sanchez-Ramirez's son made a statement.
"My father and the rest of my family are praying for everyone's speedy recovery," Daniel Sanchez said. "Our concern and thoughts are with the victims of the accident."
Meanwhile, the National Transportation Safety Board was continuing its investigation. A board member announced early in the evening that the train had been operated by a 31-year-old engineer in training, and that the train was going 64 mph when the brakes were applied and had slowed to a speed of 56 mph at the time of impact.
All signals and lights at the rail crossing at Rice Avenue and Fifth Street worked as designed, according to the NTSB.
Twenty-eight people were hospitalized immediately after the crash, with Metrolink engineer Glenn Steele in the most serious condition. His heart stopped twice while in care on Wednesday, doctors said. He was moved to a facility with specialized care, a spokeswoman for the Ventura County Medical Center said.
One other male patient remained in critical condition Thursday, while three patients were stable and a female patient had gone home Wednesday, the hospital spokeswoman said.
On Wednesday, Sanchez-Ramirez's attorney described his client as a "family man" who was going for help after the crash, not fleeing the scene.
Police said he was discovered by officers more than 1 1/2 miles from the crash site; the driver's attorney said Sanchez-Ramirez approached officers himself and had his son, translating from Spanish to English on a cellphone, explain what had happened.
The driver had turned onto rail tracks in an area he was not familiar with and became stuck, attorney Ron Bamieh said. He tried to free the truck and warn the oncoming train with his high beams, but was forced to flee for his life, Bamieh said.
"That's all this was … an accident," Bamieh said.
He was searching for help when he found police, according to the attorney.
Sanchez-Ramirez was being held on $150,000 bail. He was released from custody just before 9:30 p.m.
A GoFundMe account has been set for Metrolink train engineer Glenn Steele.
KTLA's Kennedy Ryan contributed to this story.
More video: