This is an archived article and the information in the article may be outdated. Please look at the time stamp on the story to see when it was last updated.
A Pico Rivera teenager pleaded not guilty Friday to 151 counts in connection with allegedly extorting nearly two dozen young girls in eight states into sending him nude photos and videos of themselves performing sex acts.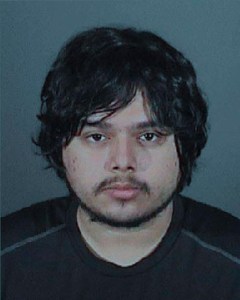 Cesar Estrada, 19, was charged with 109 felony and 42 misdemeanor counts including possession of child pornography; contact with a minor for sexual offense; disorderly conduct by distributing a private intimate image of a minor causing emotional distress; extortion; and lewd acts upon a child, according to the Los Angeles County District Attorney's Office.
The investigation began earlier this year when a 14-year old Antelope Valley girl reported she had been victimized by Estrada via Facebook, according to the Los Angeles County Sheriff's Department.
Estrada had allegedly enticed the girl into sending nude photos of herself to him. After the victim complied, he allegedly began to pressure her for more graphic photos and videos, the sheriff's department stated in a news release.
When the girl refused, Estrada threatened to send the nude photos to her entire Facebook Friends list, investigators stated. The girl then went to her father who contacted sheriff's deputies in the Antelope Valley.
Detectives were able to locate Estrada and served a search warrant at his home.
On his computer, detectives allegedly discovered more than 26,000 pages of conversations and texts between Estrada and 21 underage Hispanic girls in multiple states making similar threats, the release stated.
The girls claimed they were contacted by Estrada on the Internet, primarily through Facebook and Kik social media sites.
Estrada was being held on $3 million bail.