This is an archived article and the information in the article may be outdated. Please look at the time stamp on the story to see when it was last updated.
An investigation was underway Thursday after a fire damaged a portion of actor Pierce Brosnan's beachfront home in the Broad Beach area of Malibu the previous night.
The fire broke out around 9:45 p.m. Wednesday in the 31100 block of Broad Beach Road, according to Inspector Miguel Ornelas of the Los Angeles County Fire Department.
As many as 20 firefighters responded to the first-alarm residential fire and put the flames out within 30 minutes, an L.A. County Fire public information officer said early Thursday.
At one point, video showed flames engulfing the garage of the house. A nearby bedroom was also damaged in the blaze, officials said.
The actor, perhaps best known for his portrayal of Agent 007 in several James Bond films, was home at the time with his family when the fire started.
Everyone appeared to have gotten out safely, however, as no injuries have been reported.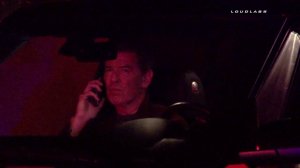 A visibly distraught Brosnan could later be seen outside the home walking around the property and talking on his cellphone as firefighters remained at the scene, according to video from the scene.
One neighbor told KTLA that this was the second time a fire occurred on Brosnan's property, and that the previous one had destroyed his home.
"Their last house totally burned down several years ago, then it took them several years to build this house," Andy Stern said. "It's an unusual house. Going through the permitting process and building it just took a long time.
Stern added that it was a "fabulous house."
The 13,000 square-foot residence is estimated to be worth roughly $18.2 million, according to records on the online real estate database Zillow. It is located on a street where the average property value was above $10 million.
The estimated loss in the fire was $1 million, according to the Los Angeles County Sheriff's Department.
Investigators were on scene for hours after the blaze was put out and were still working to determine its cause.
KTLA's Nidia Becerra Tijerino contributed to this story.