This is an archived article and the information in the article may be outdated. Please look at the time stamp on the story to see when it was last updated.
Members of the Seal Beach city council voted Tuesday to add pigs to a list of livestock banned by a city ordinance, but agreed to make an exception for one pot-bellied pig named Bubba.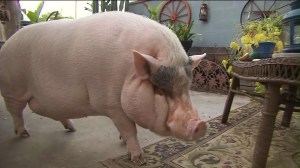 Community members, wearing tee-shirts of solidarity, teamed up with Bubba's owners to square off against a handful of outspoken neighbors who said they'd had enough of Bubba's stench and squealing.
But owner Madonna Grimsley, who is battling stage four cancer, argued that Bubba posed no threat.
"It's hard enough fighting for my life and now I feel like I'm fighting for my pig's life," Madonna Grimsley said.
In the end, the ordinance banning pigs passed, but there was an exception made for Bubba.