This is an archived article and the information in the article may be outdated. Please look at the time stamp on the story to see when it was last updated.
A section of the 215 Freeway and several surrounding streets reopened Friday afternoon after they were shut down for more than 24 hours when an F-16 fighter jet crashed into a warehouse just outside of March Air Reserve Base near Perris the day before.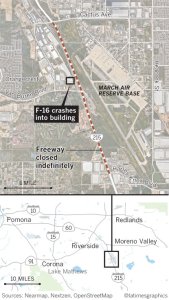 Authorities cordoned off an area for three-quarters of a mile around the scene, including a portion of the heavily traveled Interstate. No residential areas were involved, but the closure affected businesses and adjacent Riverside National Cemetery, authorities said. The 215 was closed in both directions between Harley Knox Boulevard and Cactus Avenue, California Highway Patrol officials said following Thursday's incident. "Avoid this area at all costs," said Terri Kasinga, district spokeswoman for the California Department of Transportation cautioned motorists Friday morning, as military officials made progress in securing the crash scene and rendering the warplane's weapons safe. The freeway closure was lifted about 5 p.m. Friday,  according to the CHP. Only Opportunity Way and Sysco Way, near the crash scene, remained closed. The Air Reserve Base warned nearby residents to expect possible "loud explosion noises" while an ordnance disposal team continued their work.
The March ARB Explosive Ordnance Disposal team will be disposing of some armaments this afternoon near the base. So don't be alarmed if you hear some loud explosion noises. https://t.co/LHtSwoDVyc

— March Air Res. Base (@March_ARB) May 17, 2019
The aircraft crashed through the roof of the warehouse about 3:45 p.m. Thursday. There was no explosion and no serious injuries among workers at the business. The pilot ejected safely before the crash and was in good condition, Col. Thomas McNamara, vice commander of the Air Force Reserve's 452nd Air Mobility Wing, said at a news conference Friday. The pilot's name was not released. The warehouse is owned by See Water, Inc. The company offers products and solutions to HVAC, commercial, residential, utility and wastewater industries.