This is an archived article and the information in the article may be outdated. Please look at the time stamp on the story to see when it was last updated.
A 65-year-old pilot who died with three family members when his plane crashed near Agua Dulce Sunday morning had been flying since he was 15 years old, said his son Jake Hastings, who was supposed to be on the fatal flight.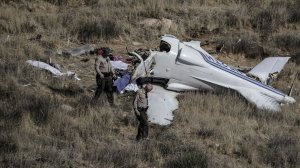 Hastings said he first realized something might be wrong about 11:30 a.m. when he hadn't heard anything from his father, Thomas Hastings, who set to be flying back from a trip to Las Vegas.
When he learned some 2 1/2 hours later that a plane crash had been reported, Jake Hastings took to Google to search for more information.
The search results turned up an image of a Cirrus aircraft with the tail number of his father's plane.
His mother, Joyce, also found out about the deaths of her husband, daughter, granddaughter and son-in-law's through news reports.
"At 2 o'clock on the nose, this lady next to me went to Google News, and it says plane crash — four dead," she said. "And there was a picture."
After zooming in on the photo, she also realized it was the same small plane her husband loved to fly his family around in.
It was a rare VK-30, a fixed-wing, single-engine five-seater that Thomas Hastings had spent years building from a kit in his garage, his son told the Los Angeles Times.
The plane crash was reported to authorities about 11 a.m. in a remote area near the 30000 block of Briggs Road, according to L.A. County fire officials, who confirmed that four people on board had died.
Those killed were the 65-year-old pilot, the pilot's daughter, 27-year-old Amber Hill, her young daughter, 9-year-old Madison Hastings Saxelby, and Amber Hill's husband, 25-year-old Jacob Hill.
"It's still at the unreal stage," Joyce said. "I expect to see ... all four of them walk in through the door. And they won't."
"It's really, really difficult," she said.
Jake Hastings said there's been a lot of support offered to the family the wake of the crash. He called Madison an "incredible girl."
"Her mom and her husband Jacob, just great people," Jake Hastings said of the victims.
"It's a crazy thing to think about, but I feel like everything happens for a reason. We're at peace with it and doing the best we can," he said.
Jake Hastings said it was a flight that his father made on a regular basis, one that he himself has made with the family 30 or 40 times of the past couple of years. The flight was coming from the Henderson, Nevada, airport and was bound for Van Nuys Airport, he said.
"I was supposed to be on that plane," Jake Hastings said.
He ended up staying home instead on the chance that a friend might be visiting from out of state.
Thomas Hastings was passionate about flying and loved to share his interest with children, his son said.
"He's flown thousands and thousands of kids over the last 30 years," said Jake Hastings, who mentioned his father got his pilot's license at 15 years old, before he could drive a car.
Jacob Hill's mother, Sandy Bowers, said she heard about the crash from Thomas Hastings's wife.
"She told me, I dropped the phone and started screaming," Bowers said. "You're not supposed to lose your kids. You're not supposed to bury your kids."
Jacob Hill, who has five siblings and three step-siblings still in shock, would not have been able to cope with his wife and daughter dying, his mother said.
"One thing that's comforting is that they went together because they are his world," Bowers said.
A GoFundMe page has been set up to raise money for the victims' funerals.
"The thought of losing one family member is hard enough to fathom, but these families lost four very special people all in one day," states the page, created by Laurel Frahm-Hastings. " The pain has been unbearable."
It's unclear what caused the crash, but there were no visible burn marks on or around the plane.
The cause of the crash is under investigation by the Federal Aviation Administration and the National Transportation Safety Board.
KTLA's Melissa Pamer contributed to this article.