This is an archived article and the information in the article may be outdated. Please look at the time stamp on the story to see when it was last updated.
The pilot killed in a plane crash in Yorba Linda over the weekend was flying home to Nevada after seeing family in Southern California, his daughter told KTLA on Tuesday. Julia Ackley of Torrance said her father, 75-year-old Antonio Pastini, came in Friday to spend time with her and her daughter. "We ended up having lunch and ice cream and making plans for [my daughter's upcoming softball] game," Ackley said. "We left to go home. He promised that he would call. He never called."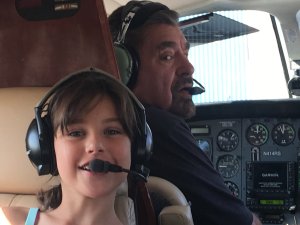 Ackley told KTLA she watched news coverage of the incident on Sunday afternoon not realizing that the Cessna that appeared to have erupted midair over a residential neighborhood was her father's. Parts of the twin-engine aircraft rained down across four blocks in the area of Crestknoll and Glendale drives. Debris set one home ablaze, killing four people inside. Officials said they have yet to identify the remains through DNA testing and other measures, but neighbors described the victims as a husband, wife, their daughter and their son-in-law. "It was the worst sound ever," resident Dolores Munoz said of the explosions. "The stench was horrible. The smell was something I've never smelled before." She said one of her neighbors started shutting off gas lines as loud booms were heard across the neighborhood. Ackley said Pastini, who had 11 grandchildren and great-grandchildren, was a veteran pilot who's been flying for decades. While authorities initially described him as a retired Chicago police officer, the Orange County Sheriff's Department later said the credentials found on the pilot were not legitimate. The Chicago Police Department confirmed that he never worked for the agency, OCSD spokesperson Carrie Braun said.