This is an archived article and the information in the article may be outdated. Please look at the time stamp on the story to see when it was last updated.
Pinecrest Schools announced Monday that they will be closing all five of their campuses after 65 years due to financial troubles.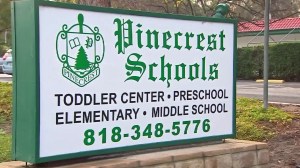 Escalating costs and the rise of charter schools and alternative learning centers were cited as reasons for the campuses in Woodland Hills, Thousand Oaks, Moorpark, Canyon Country and Simi Valley to close at the end of the school year.
"We have exhausted both our emotional and financial reserves trying to maintain our school business," President/CEO Jeri Dye Lynch stated in a letter to parents, the Thousand Oaks Acorn reported.
Parents who found out about the decision this week said they were surprised by announcement.
"It's a wonderful school and it's been here for a long time and it's shocking that it's going to be gone," said one father who had just dropped his child off at the Woodland Hills campus Tuesday morning.
Another parent, whose third child is set to graduate from the school at the end of the semester, said he was shocked by the news but had noticed enrollment diminishing recently. "We'll miss it," he said.
The first Pinecrest campus, which served as a boarding school, opened in Van Nuys in 1951 and was the first private school in the area, according to the publication.
Officials were in talks with other educational organizations about the possibility of opening their own schools on the Pinecrest properties, the letter stated.