This is an archived article and the information in the article may be outdated. Please look at the time stamp on the story to see when it was last updated.
A small plane crashed next to the prison yard of a facility in Riverside County Monday afternoon and at least one person was killed, officials said.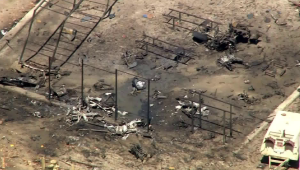 About 12:10 p.m., the Riverside County Sheriff's Department received reports of an "air emergency" along the 1900 block of 4th Street in Norco.
Only the pilot was in the Northrop N9M when it crashed, the Federal Aviation Administration said in an email to KTLA, citing local authorities.
Later, sheriff's officials tweeted that the crash was fatal, but it was unknown how many people were on the plane.
No inmates or prison staff were injured, but the aircraft "sustained substantial damage," the FAA said.
One inmate did receive scratches during the incident, a spokesperson for the California Department of Corrections and Rehabilitation said in an email.
Aerial video from Sky5 showed charred ground where the plane appears to have crashed. Remnants of a wheel could be seen.
No further details about the incident were released, but the Sheriff's Department tweeted that the National Transportation Safety Board will be investigating.
CalFire also responded to the plane crash.
https://twitter.com/RSOPIOWest/status/1120413885482270720
Check back for updates on this developing story.